Mikikajiya-Mura brand Knife stand 270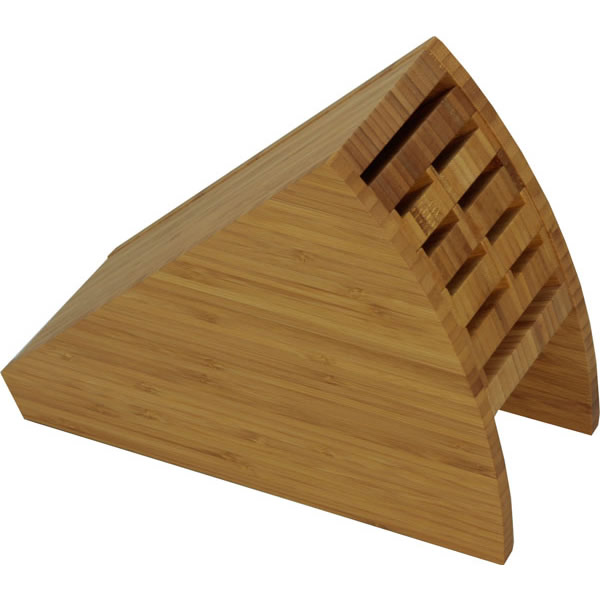 Surface of the bamboo is finished with a protective coating.
An original product introduced by Miki Kajiyamura. This knife stand is made from engineered bamboo. Unlike other wooden materials, engineered bamboo is unique for its beautiful pattern of stripes that results from the nodes on bamboo. The knife stand's sleek and natural good looks make it a stylish addition to the kitchen. Bamboo also has anti-bacterial and deodorizing properties, which helps in terms of sanitation. The stand is designed with removable shelves that can be arranged in different patterns to fit knives of varying width and thickness. The removable shelves also make hand washing a breeze.

*The knife stand can store knives up to 270 mm long. There are 6 slots all together and 4 sections can carry two knives side by side. The bottom space is for thick, deba style knives. This stand is the perfect companion for Japanese knives. 

Size of each section
Width 95 mm×Height 10 mm 1 section (for deba knife)
Width 50 mm×Height 7 mm 3 sections (for santoku knife)
Width 44 mm×Height 7 mm 2 sections (for yanagi knife)
Width 38 mm×Height 7 mm 3 section (for paring knife)
Width 106 mm×Height 7 mm 1 section (for any type)

*The board in the middle can be removed, so kitchen scissors can also be stored in the case.
| | |
| --- | --- |
| Width | 130mm |
| Depth | 285mm |
| Height | 225mm |
| Weight | 2.0kg |
| Material | engineered bamboo |
Other Images